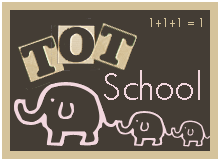 This week we attempted getting back into Tot School a bit- we still aren't in full swing but at least it's
some
progress!
ABC's
We started working on the ABC pages from the Totally Tots blog. Here is R-Man blowing bubbles to make bubble paper for his letter "B" page.
Reading
We also started counting our hours of reading to go towards our local library's summer reading program. If R-Man gets 15 hours of reading in by the first week in September he will get a prize (last year it was a ticket to a local children's museum!).
Life School
R-Man has had a lot of good quality time with Dad lately- including lots of adventures outside! While Jer was mowing the lawn R-Man got to "wash" his truck. He had lots of fun to say the least!
Of course, R-Man has also been getting lots of life school with his new little brother, Lion Cub! The other night we let R-Man fall asleep in our bed. I headed to bed with Lion Cub before Jer, so I decided we could just snuggle with R-Man until Jer came down and moved him. R-Man woke up a little bit and was chatting with me while I changed Lion Cub's diaper. I had to run upstairs for a minute and when I came back down I found R-Man telling Lion Cub all about how they are the same because they are brothers- same two eyes, same two ears, same toes, and so on- Lion Cub was just staring at R-man the whole time! It was the most adorable thing! I then got to have my two boys cuddled up to me- it was just precious! Moments I will never forget!