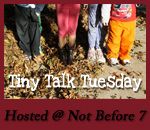 R-Man has had a serious fascination with Iron Man for quite some time now, even insisting on being called Iron Man a lot of the time! So imagine our surprise when he announced the other day,
"Mom, I'm not Iron Man. I'm Chuck Bartowski!"
Yup, that's right, my son has elevated NBC's Chuck to superhero status and desperately wants to be him! He wants to fight the bad guys and be a spy! Somehow, I never saw this day coming!
For more amusing words from the littles in our lives, head on over to
Not Before 7
!